Jorge Iguacel specialises in providing legal services to English-speaking clients.
Conveyancing. The procedure for buying or selling a property in Spain is quite different to the one in the UK. It is for this reason it is important to have a totally independent solicitor from the other parties, representing your interests at the transaction. More information here.
Spanish Probates. If you are a beneficiary or executor of a deceased with assets in Spain, Jorge Iguacel can assist you with the acceptance of the estate and the grant of probate before a UK notary. More information here.
Spanish Wills. If you have assets in Spain, it is recommended that you have a Spanish Will as in the case of death, the probate for your Spanish assets would be quicker and cheaper. Jorge Iguacel can advise you as well on inheritance taxes and related matters.
Powers of Attorney. Jorge Iguacel can draft a power of attorney in Spanish and English on which you will appoint someone in Spain that will act on your behalf for your interests (such as a purchase/sale of property, acceptance of Spanish inheritance, dealing with Spanish banks). In order that the power of attorney will be acceptable in Spain, Jorge Iguacel will legalise it (obtain the 'apostille') at the legalisation office of the British Foreign Office.
NIE Applications (Spanish Fiscal Number for Non-Residents). The NIE is the Spanish fiscal number for non-residents. It is always required when you have to sign the title deeds for the purchase of sale of a Spanish property or inherit a property in Spain. If you have to sign your title deeds in a short period of time, Jorge Iguacel can assist you in obtaining the NIE number certificate in around 3/4 weeks. The authorisation, required by the Spanish Police, will be drafted. The client will sign it before a local Notary and it will be duly legalised at the legalisation office of the British Foreign Office (obtain the 'apostille') in order to obtain your NIE certificate at a Spanish police station.
Company Formation and Commercial Matters. If you plan to do business in Spain, Jorge Iguacel can assist you in the matters of incorporation of Spanish companies, legislation in Spain of UK-based companies, liquidation and dissolution of Spanish companies or foreign companies with Spanish assets, preparation of company powers of attorney, transfers of shares, capital increases, appointment and removal of directors, change of registered office, any amendments of the Company Articles and purchase of businesses.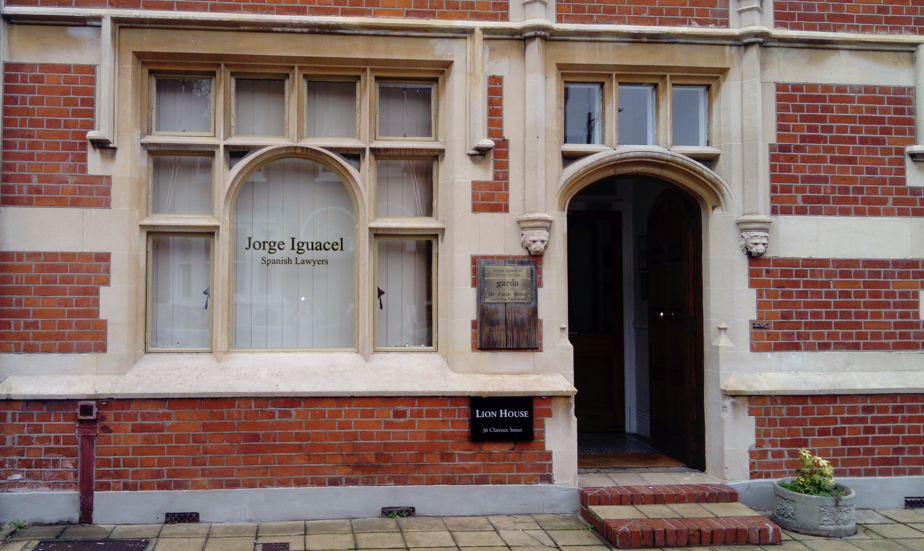 Affidavits of Spanish Law. Jorge Iguacel's long experience allows the drafting affidavits about Spanish law. An example is an affidavit on the validity of a Spanish Will in order that the probate registry could grant the probate. Another is an affidavit of Spanish law about probate, divorce and family matters.
Legal Translations. Jorge Iguacel can translate any legal document from English to Spanish and from Spanish to English. If required by Spanish authorities, the translations will be certified by a translator approved by the Spanish Foreign Office.
Civil and Penal Litigation. Jorge Iguacel can start and defend proceedings before Spanish courts in the matters of contractual litigation, off-plan property deposit reclaims, family law, tax matters and property issues.
Divorce and Family Law. Jorge Iguacel can assist in the matters of recognition of UK divorce decrees in Spain, separation and divorce before the Spanish courts and transfer of property to the sole name of one of the partied when there is a divorce or separation.
European Enforcement Orders and Debt Recovery. Jorge Iguacel can help you in the case of you needing to register or enforce in the UK a Spanish European Enforcement Order ('Titulo Ejecutivo Europeo'), as well as in the making of a claim against a debtor.
Tax Planning. Jorge Iguacel can assist you on Non-Resident Income Taxes, Wealth Taxes, Inheritance Taxes, Stamp Duty, 'Plusvalia' Tax and Capital Gains Taxes. More information here.
Insurance Claims. If you have had an accident during your stay in Spain, Jorge Iguacel can contact the insurance company and claim the appropriate compensation.